What is Spot UV printing?
Spot UV printing works by applying a clear glossy area on top of your printed business card or other item (such as a stapled booklet, folder, flyer or card),
The simplest way of setting up your artwork so this process is successful, is by creating an additional page in your design (for each side that you require a spot UV finish). On the additional page(s), only reproduce the part of the design you want as spot UV.
Here is an example of a spot UV design we did for a customer.
This is the finish printed design (the back of their business card):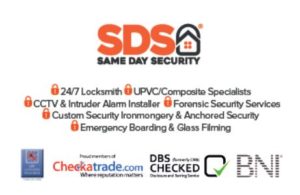 The customer wanted the logo and the locks to be the area that is clear glossy UV over the print.
The customer provided us with a second page in the pdf artwork so it shows exactly the area needed to be covered. All the dimensions are the same from the main artwork. He has made this one colour as you can see in the following image: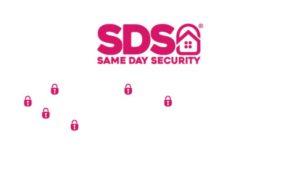 Once we receive your file, we will check that it is correct for the printing of your spot UV business card. If there is any problem, we will work with you until the artwork is suitable to print from. If you are still not sure, send us your file. You can then describe where you want the UV spot to be. We will quote you on any work that is needed to achieve your desired print project.
Why use us for your spot UV printing?
Nick the electrician descided to use Spot UV on his printed vouchers and marketing flyers. He left us a review:
"We have recently used Afford A Print to design and print some flyers for us! The whole thing was designed, printed, and delivered within 2 weeks. Nigel was able to advise us really well, and the Spot UV he recommended looks great.
Anyone looking for a quick, professional & reliable print service cant go wrong with afford a print."
We look forward to helping you with your Spot UV project. Contact us by clicking here to place your order.
To view more reviews, check out our Linkedin recommendations by clicking here.