Poster printing – will be our business pitch theme this week. And we will talk about the final BNI meeting of the year – Christmas time!
Our final BNI Premier Southampton meeting of the year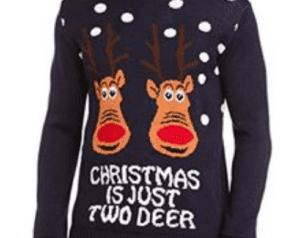 This week we had the lovely Lisa Ducarreaux share 10 minutes about her business Luxe Travel By Lisa. I took the opportunity to share a testimonial about how Lisa was so kind to help one of my print clients plan their honeymoon. You can read this (framed and printed) testimonial below.
There were some really dodgy Christmas jumpers (I wore my favourite that has a picture of two deers on it, with a
caption that reads "Christmas is just two deer"). Singing and poetry also seemed quite popular.
I was able to present a festive 60 seconds by way of a poor festive poem (as follows):
Good morning, Nigel Williams, owner of Afford A Print….

Twas the meeting before Christmas and right at this time,
a poem for you……. though it is more of a crime.

You should refer business to me,
because we have over 20 years in the print industry…

Trust in our top ranking at the freeindex website,
Read all our great feedback you'll know we'll be right.

To find me referrals this is what you should do,
Grab hold of my business cards and give out a few.

So a perfect referral for me on this cold December day,
Would be an intro to a gym, that helps you take that oncoming fat away.

Specifically for you, right now to write down,
Would be to Spirit Health Club in Eastleigh Town.

So if it's a ho ho whole load of Poster printing to big up a brand,
We can send them to your clients, across the whole of the land.

Choose Afford A Print, where we have the cure for the common card!
Amazingly, this year we have managed as a group to pass between us over £1.1 million worth of business between us. So looking forward to passing more business to our team in 2023!
Testimonial to Lisa
Here is the testimonial I printed on a letterhead for Lisa-
Dear Lisa of Luxe Travel,

At Afford A Print we love to help our customers beyond our printing services. Recently we printed some hymn books and Christmas Carol stapled books for a client in Bristol. From our conversation around the work, it became apparent that he had just got engaged to be married. So with you in the back of my mind, I asked him if he had any honeymoon plans. He didn't! So I mentioned you were able to do all the hard work on his behalf. He was very happy to take your call. In fact he was very happy throughout the whole process – he said "Lisa could hardly of made it easier….. Honeymoon booked – Lisa was great!"

Thank you so much for looking after my client, I will certainly be recommending you to others where I can. Well done! 

Best wishes, Nigel Williams, Manager of Afford A Print.
You can contact Lisa by clicking here.
Lisa has in the past kindly introduced us to a contact she knows. They started a new creative writing business. We designed a logo for them and supplied them with a set of printed business cards.
A further testimonial
Another business contact of mine (and previous BNI member) runs a funeral celebrant company. Her name is Kelly.
Kelly left us a five star google review about the business cards we also supplied them with. She said this:
I approached Afford A Print to get some business cards printed. Within a day, Nigel sent me a variety of finishes to choose from and was totally transparent about the cost of each. Once I'd chosen, he told me exactly when my cards would be printed and exactly when they would be delivered and checked in with me that very same day to establish if the cards had arrived and if I was happy with them. From enquiry to delivery was just 4 days. The quality of my cards, the packaging and Nigel's customer service was first class. I would highly recommend Nigel at Afford A Print.
BNI Podcasts
I finished the year with listening to some educational podcasts from BNI. These are very helpful in helping me grow my business through my team at BNI.
Here are some of the podcasts / subjects I listened to:
Power of one
Converting visitors to new members
BNI 550
Description:
In this week's Power of One episode we answer your submitted questions around converting visitors to new members and the importance of the Visitor Host role!
Power of one
Is a Google review a referral?
BNI 553
Description:
In this week's Power of One we answer your submitted questions! This week we are asked "Is a google review a referral if someone asks for them in their weekly presentation?"
BNI UK & Ireland chats with Charlie
Stephan Mulder's story
Description:
BNI member Stephan Mulder shares his story on the challenges he faced during pandemic and how lifelong learning and a positive attitude helped him through.
Power of one
Is it a referral again?
BNI 544
Description:
In this week's Power of One we answer your submitted questions! This week we are asked "Should more than one referral be put in for a follow on piece of work to an existing BNI member"
Do you know someone who would benefit from Poster Printing or printed Business card? A folder that markets their latest product?
Or, would you be interested in a great way to find more business through business referral networking such as BNI?