Magnet printing is a great way to keep your brand in front of people.
The average person makes up to 12 trips to the fridge every day. It is also believed that a person who places a magnet on his or her fridge will leave it there for an estimated 6-8 years. This means a person will potentially see a fridge magnet no less than 26,000 times a year!
Advertising magnets come in all shapes and sizes. The two most popular types of magnet printing for business applications are the car door sign magnet and the business card magnet. Of these two, the business card magnet is far-and-away the most popular. One reason for their popularity, is that the artwork and layout for business card magnets is likely all ready to print from if you have had some produced before. So, with us, there could well be no editing charges to have your card produced on a magnet.
Tips for creating advertising magnets
In this article, we will consider some tips for creating advertising magnets that customers are sure to put on their fridges, or in other places around the home. With each of the below suggestions, it is assumed that the magnet includes pertinent information about your business (i.e. address, phone number, email, company logo, etc.).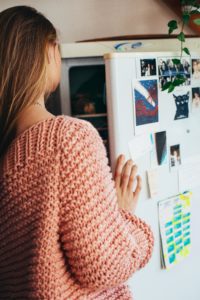 Business Cards. As stated above, the most popular advertising magnet is the business card. Not only do they display all of the pertinent company information in an orderly way with a clean design, but they also are of a size that allows them to be placed just about anywhere. Many people use business card magnets to affix shopping lists, notes, photos, and other non-adhesive items to their fridges.
Calendars. Small, magnetic calendars, particularly those that can be written on with a dry-erase marker, are particularly useful.
To Do List. How helpful and convenient it would be to see your daily "to do" list every time you walk to the fridge. A fridge magnet that allows for writing and rewriting of lists is sure to be on the fridge for a long time.
Note Pad. A fridge magnet that holds a note pad will serve as a remedy for the age-old problem of finding a piece of paper on which to write on.
Picture Frame. How many times have you taped a photo to your fridge only to have the tape yellow and make your fridge look old and dirty? Why not design small magnetic frames for those little keepsake photos of the family?

BONUS IDEA! Make a list of 10 top tips that your customer will really appreciate you for. If you are an electrician, give a brief idea of what to do when lights go out. Or what to do when your customer has a power failure include your details so they can give you a call. Leave one with every customer – this could generate more business when they have visitors to their house.
The only limitation to your advertising magnet design is your imagination. Let us help you advertise your company in people's homes and other places, for years to come – by way of a fridge magnet. Contact us today and let's get your printed fridge magnet project started!
Why use us for your magnet printing?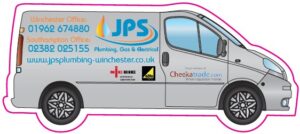 We supplied a plumber with some magnets that they placed on boilers. They gave us this review:
"Since Nigel Joined our BNI chapter I have been using Afford A Print for all our printing. He has redesigned and printed our business cards, flyers, folder inserts and fridge magnets.
The service from Nigel has been brilliant all the way through. Every time I have used afford a print he has got back to me quickly with prices, tweaked designs and then delivered my products extremely quickly.
I would not hesitate to recommend Nigel and Afford A Print to anyone that needs any form of printing"
Jamie S.
You can read more testimonials by clicking here.