Business cards should not be the first impression you give to a potential client or contact. "Here's my card," should not be the beginning of a business relationship. You should be the first impression a person receives of yourbusiness. Your warmth, politeness, respect, expertise, and communication and listening skills should be the first and lasting impression left upon your potential clients. However, your business card, coming on the heels of a great first meeting, most certainly will leave an impression, too.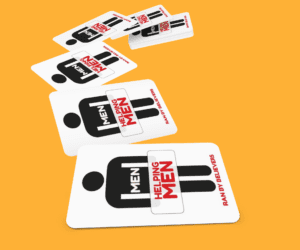 A business card is more than a piece of advertisement that will conveniently fit in someone's pocket, wallet, or purse. The business card you design and distribute should serve as a reminder to your client that they've established a relationship with a professional. You don't want your business card to be one of many forgotten cards in a person's desk drawer. You want your business card to be one of the few that a person keeps close at hand—the cards that represent the most important business relationships.
In this article, we will look at the important design elements of a professional business card.
Your Business Card as a Portable Billboard
When designing your business card think about the elements of a billboard that catch your eye, in a positive way. Your business card should likewise catch the eye of and provide the most important information about your business for your client.
Your business logo should be the first thing people notice on your business card. Therefore, it must be a size that allows for all of the design elements in your logo to be seen. We at Afford A Print will help you design your logo.
In addition to your logo, elements such as typography, paper, layout, texture, even shape (business cards don't have to be rectangles) are critically important to developing not only an eye-catching design, but a memorable business card. You want your business card to burn an indelible image in the mind of your potential clients.
What Your Business Card Should Include
The last thing you want to do is develop and print a business card that doesn't provide your clients with all of the necessary information to connect and interact with you. Your business card should include:
Logo
Tagline (For instance: the tag line for Afford A Print is, "For all your printing needs")
Name and job title
Full contact information
Website (but perhaps not your home page; offer a page on your website that either introduces you or your company's story to the client)
Social media pages
White (or blank) space to give the viewer's eyes rest while looking at your card. Don't make your cards too busy.
As you can see, there is much more to consider than card stock colour and font size when developing the design of your business card. We at Afford A Print are here to bring your business card vision to life. We will design your cards in such a way that your clients will know you mean business.
Why use our printed Business Cards service?
Here is a recommendation from Linkedin about a job we did for a client:
"Dear Nigel
Business Cards – Prompt and Communicative Service
You have been easy to deal with from start to finish and kept me up to date with timings of printing and delivery, so we were never in the dark about when the cards would arrive. You even provided advice on a product line you no longer supply, which was also extremely helpful. The cards provided were of good quality too.
I would have no hesitation in recommending your services to other clients and would like to thank you for providing a high quality product in a timely manner.
Yours sincerely
Tim Clarke MRICS"
To read more recommendations on linkedin, click here
Click here to contact us today and let us help you take your business to the next level through print.