A common thing to look for when you need a printer to do some work for you is to google "Printing near me."
There are several reasons why it is not always essential for you to work with a printer that is local to you.
A real example of why you don't have to look for "printing near me"
A window cleaner had a meeting with our accountant and our accountant recommended our services to him. He gave me a call and one of the first things that people ask is, "Where are you based?" – this often means ''I want to come and see you.''
Picture the scene, the person is 30 minutes drive away. He wants to discuss his needs, but I don't know what his budget is. I don't know if it will be too costly for him, or if I can cater for all his specific needs. He would have to take one and a half to two hours out of his day just to come and see me.  If the budget he has and my prices don't match then he will have to do the same thing all over again elsewhere.
Instead of telling him where I am (or anyone else for that matter generally), I seek to establish exactly what they are looking for. That's not to say I don't tell them where we are at some point.
Logo, business card and leaflet design from a distance
In this instance, they needed a new business logo designed, business card, leaflets and invoice flyer. When I worked out exactly what he was looking for, I asked him if he used WhatsApp. He had already written in pencil, on paper, the details of what he would like included on each. With that, he had an example logo of something he liked. All of these things are very helpful, especially for him to send me images on WhatsApp.
We went from a phone conversation to messaging each other over WhatsApp. I was able to use all the information he provided to give him a quote.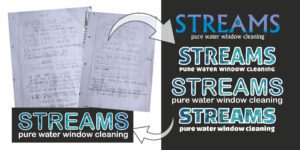 This whole process of establishing if I can help them, took less than the half hour he would have needed to travel one way. Sure, not everyone needs to travel that far. I have customers within walking distance. My main aim is to help them as quickly as I can and establish exactly what they need, so they don't have to waste time that could be used elsewhere.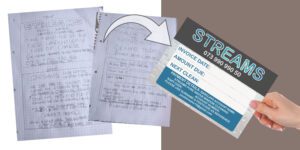 Not everyone wants to pay the prices I charge and if I know they can get a better price elsewhere because it is not my speciality, then I would sooner them go there – especially if we are too busy to fit them in.
Some people come to us to have an Amazon return slip printed. Some people do come for local printing – they come to us to have plane tickets printed. We are talking up to three pieces of paper. If I am too busy, then I will point them to our Church Christian bookshop (Mayflower Bookshop, Spring Road) who has the ability locally to do the job.
Not everyone is technology minded
Some people who search for "printing near me" prefer to travel and see a face to talk to about their needs. For example, I was recommended to an elderly couple over 30 miles away. They generally needed help sending emails from their computer. WhatsApp and even emails would not have been an option.
I did however, have a long conversation with them because there was no way I wanted them travelling all that distance,  if what I was offering was out there, when it came to their budget.
They wanted three printed flyers reproducing. They had had some produced elsewhere before but had no access to the images used. Within a short time of their visit, I was able to assure them that I could reproduce the leaflets with some suitable print-ready images – not scanning (never from scanning if it can be helped!).
In the end, they received three A6 postcard designs, 1000 copies of each. They travelled once again to pick them up, even though I could have had them delivered at no extra cost. Though I had never met this couple before, we had a wonderful time on both occasions we met and they were very happy with the flyers.
QR code printing help
Another way in which we spend extra time with our clients in helping them is, if we see they have a QR code that might cost them money. What do I mean by that? Here is a review my customer left that should explain it:
"I would like to thank Nigel on the recent business cards he has produced for Harrison Clarke. We had updates to be made to the previous cards he has made for us, a new member of the team and a design change. We wanted a QR code on the back that directed straight to our website and the services we provide. I had created one online, but the design was a little patchy so asked if Nigel would kindly assist.
Nigel came back to me very quickly despite having covid and advised me of the problems of googling and using free QR code generators and that the site I had used would more than likely only allow for the QR code to work for a trial period until I pay a subscription, Nigel was correct in the advice he had given me. Nigel was able to design a QR code that will work, and we really do appreciate your hard work, attention to detail and how quickly they were received. The team were happy with their business cards especially the new member of our team."
Tim Clarke, Director of Harrison Clarke.
Why use us for your local and national printing needs?
I hope this article goes some way to explain how you don't need to search for "printing near me." We will try to help you and anyone you recommend us to, especially when it comes to minimising the time it takes to see if we can be of assistance. We won't insist on doing everything over the phone, but we will try to explain the benefits of doing it that way, rather than travelling distances.
To read some more of our customer testimonials, click the following links:
Got a print project you need help with? Get in touch today