Roller banner printing is a great way to reach many people – and very portable. The right Roll Banner design placed in the right spot is a great compliment to showcasing your products and services.
It compliments general print items such as flyers and business cards. Check out our top tips for similar items, like poster print tips, before placing your order.
1. Keep your logo at eye level, or ideally at the top. Remember that tables could otherwise cover it up, or the person who stands nearby.
2. Don't use stock designs – Design it to maintain your corporate identity – ask us for help.
3. Look around for inspiration. Research what banners exist that have worked well for others. Look for how others market such an idea. Think about roller banners / general displays you have seen in the past that have caught your eye.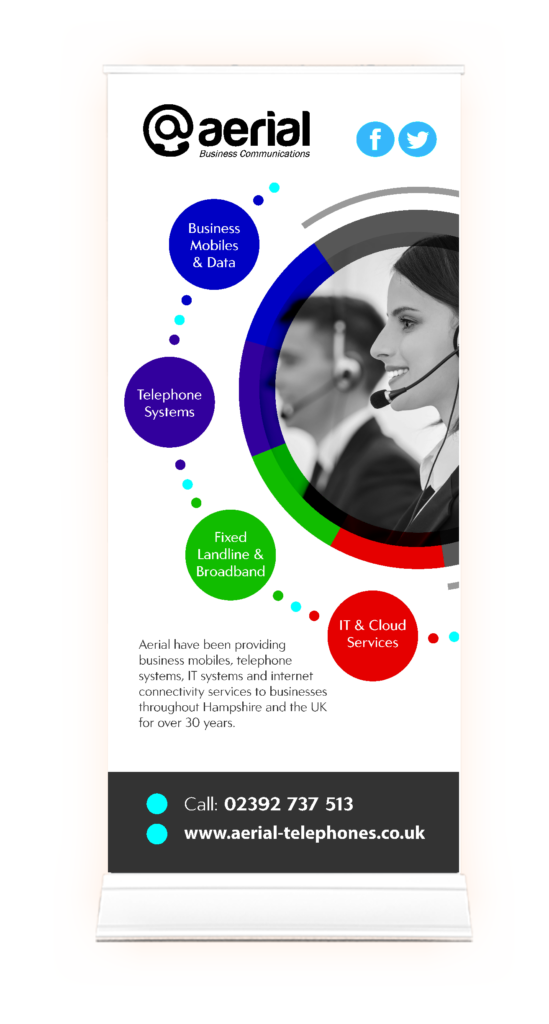 4. Top to bottom – left to right. Remember the direction people are likely to read it. Start your message from the top.
5. Keep your Banner simple. Too much information may put people off. Think about what will get people to talk to you. Is the banner for permanent display? Try not to use information that could change – Prices or offers that don't last long.
6. Promote your unique selling point (USP). For example, ours is that we are ranked number one out of over 2650 Print and Design Services. This is across the whole of the UK through the independent feedback website called FreeIndex. It needs to be something different that will make you stand out in the crowd of competition.
7. Take time with the design (Speak to us if you need help with your marketing & design) – Spend money on it. Make it stand out from other banners, rather than just something that people walk past. Make sure it matches other items you already have, such as letterheads, flyers and business cards.
8. Never use Comic Sans – keep to only a few types of fonts at most.
9. Plan what you will do with it before placing the order. Talk with us about your ideas.
10. Ensure any images are high quality as they will appear large on the finished item (talk to us if you need images). Ensure the fonts are large too.
Can you take on a lot more business?
Talk to us today about an exceptional way to find
new referrals for your business
Call: 02382 358 168
or email: support@affordaprint.co.uk
Why use us for your printing project?
A new customer used our banner services and left is a 5 star review on Freeindex. They said this:
"Our first time using Afford A Print, their quote was very competitive, fast professional service. The banner was produced to a high standard. Nigel communicated well throughout."
J. Thurnell-Read
Another customer who needed a banner urgently used our services. He also left us a review. He said this:
"Great service when I was up against it at a trade show recently. Nigel went above and beyond by hand delivering my banner to my house the night before the event" S Bieniek