A poster print is a great way to reach many people at minimal cost.
The right poster design placed in the right place is a popular marketing tool in a culture that is so largely image driven.
Here are our top ten tips.
1. Use a forwarding number: If you move house/premises or you lose your mobile, consider an 0800 or 0845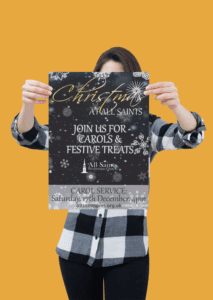 number (talk to us about how you can get one of these numbers). You can simply forward the call to any number of your choice with one of these. You could offer a QR code – talk to us.
2. We'll say it again – Don't use stock designs – Be unique! Stand out from the rest!
3. Look around for inspiration. Research what posters exist that have worked well for others. Look for how others market such an idea. Think about posters you have seen in the past that have caught your eye. Ask others what posters they remember.
4. Give them an offer they can't refuse– 10% off, free gift or 'money off with this code.' – Make your poster work for you. This could be using one simple theme, about how what you want to promote will benefit the reader.
5. Once again keep things simple. Too much information may put them off reading altogether. TIP: Think about what you could put that would encourage a phone call / question. For example, instead of listing what you can do, try a catch all statement such as 'for all your printing needs.' This may encourage them to call and ask 'do you do….' Which even if you don't, it could still lead to more opportunities.
6. Promote your unique selling point (USP). For example, ours is that we are ranked number one out of over 364 Print and Design Services. This is across the whole of the UK through the independent feedback website called FreeIndex. It needs to be something different that will make you stand out in the crowd of competition. Testimonials may work very well to build consumer confidence.
7. Take time with the design (Speak to us if you need help with your poster print design) – Spend money on it, to make it stand out from other printed posters.
8. Once again don't use Comic Sans font – keep to only a few types of fonts at most.
9. Plan what you will do with them before placing the order. Research the footfall and types of people that will see the poster. Talk with us about your ideas. A spider diagram could help you brainstorm more ideas to reach more people.
10. Give the poster a catchy title – You only have a brief moment to grab your audience.
Need your poster print designed? Talk to us today
Call: 0788 23 27 920
or email: support@affordaprint.co.uk
Why use us for your printing project?
A returning customer left us a 5 star review on Freeindex. This is what they said:
"I now ALWAYS use Nigel for my printing of Christian tracts and A1 posters. The quality of printing is superb. All my tracts and posters are printed on plastic which gives a great finish and mostly rain proof. His prices are so affordable (hence afford a print) and delivery is so quick. I wouldn't use anyone else as the proof of his excellent service and delivery are in the pudding as they say. Try him you won't be disappointed!"