We can supply your business or organisation with compliment slips, letterheads, continuation sheets and business cards. With clients in Southampton, Hampshire, and all across the UK.
Compliment slips can be printed on a range of paper thicknesses, though 120gsm is a popular choice. The standard size for a compliment slip is one-third of an A4 (99mm x 210mm).
Why does your business/organisation need Compliment Slips?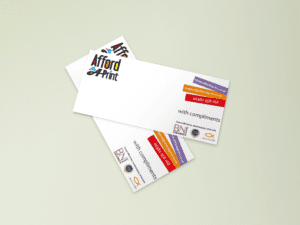 When was the last time you received a handwritten message? Sadly, it might be hard to remember, but that's because most people haven't experienced it in a long time. Handwritten messages are becoming less common, and that's not just because people are too busy with their smartphones. Handwritten notes aren't convenient—they take up more space, require more storage and maintenance, and aren't as easy to find as printed cards. But if you stop reading and look past all of the negatives, you'll see why handwritten compliment slips are worth embracing again. When you read on, it becomes clear why: handwritten compliment slips are good for business.
Here are four reasons your business needs printed compliment slips…
Compliment Slips are an easy way to show gratitude
Handwritten slips are elegant and sentimental. They also let you be yourself, which can be especially important when you're thanking someone. A handwritten note is a great way to thank customers, clients, and other business partners for their help. You can also use a handwritten slip to express gratitude to employees for their hard work and service. Handwritten compliment slips allow you to think out loud and use extra paper to write longer messages than a card. And since handwritten slips are personal, they feel more genuine than an email or text messages.
Compliment slips are often purchased with letterheads. Read our article about letterheads: 7 Top Tips for letterhead printing 
Compliment Slips show you care
When you're handing out printed cards to thank customers, you're sending a distinct message. When you hand someone a handwritten slip, you're also showing that you care by using extra time and effort to write the note. If you're busy with your day, taking the time to write a handwritten note out of gratitude shows that you value the reader. This can build your reputation as a conscientious businessperson.
Have you ever considered adding Greeting Cards as essential promotional items? They are a great way to say thank you for the business.
They build customer relationships
When you use a greetings card to contact customers, you're just sending a distinct message – be it a birthday card, Christmas card or a thank you. But when you use a handwritten note, you're extending a personal message with your signature. This signature gives your customers a sense of who you are as a person, which can help foster customer relationships. When you hand someone a printed card, what message do you send? If it's just a message of gratitude, it might not communicate a strong sense of who you are as a company. But if you hand someone a handwritten slip, you're doing much more. This can personalise your gift and let your customers know who you are as a company.
Do you need business cards? Click here to read our article all about business cards.
A slip encourages repeat business
It's another touch point for your brand. Even if you were to write nothing on it, it is saying the item with it is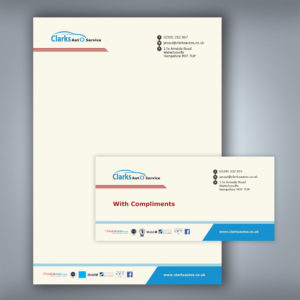 delivered with compliments of the sender. Writing a message there, if it is important, and something they are likely to keep, will encourage them to view your brand again and again. Like a calendar, branded magnet etc – it reminds them of your last sale or extra touch you make in doing work for them.
If you write down a password or key code that the receiver should keep, then do it on something branded like a compliment slip. You could also simply write out something they can have next time they make a purchase. A bit like a voucher.
If you supply products, it's good practice to place a compliment slip near the bottom of the box, or at the very bottom. This will serve as a reminder to them where they purchased the item.
Have you ever used a branded calendar to promote your business and encourage new sales? Click here for details
Why not give your clients a complimentary desk pad? Find out more by clicking here.
In conclusion: We can help you
At Afford A Print we can not only print branded comp slips for you, but we can also design them. If you have an idea on paper, or simply something still in your mind. Talk to us and we can help you develop that into the real thing.
We look forward to hearing from you and helping you bring your ideas to life.
Why Use Afford A Print for your printed compliment slips project?
Check out our reviews:
Take a look at our guide to printed letterheads by clicking here.