We love stapled booklet printing. These are good for any small publication, usually, 56 pages or less, and are ideal for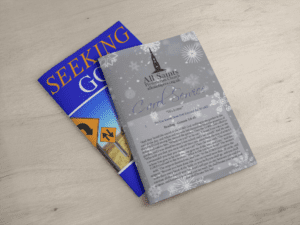 product listings or news updates. You can view some reviews from our customers at the bottom, where we have delivered on the printing (and sometimes the design of these).
When customers approach us to have their expertise or product translated into a booklet / stapled brochure, some common issues need to be discussed.
For example, you can't have 7 printed pages.
You can have 8, but not 9. We are not trying to be awkward. Let me explain…
Imagine a single sheet of A4 paper folded in half. Imagine bringing two together with staples in the centre. Closing them to make a stapled booklet. Anything less would be an A4 folded to A5 flyer. So, your booklet starts with 8 sides when two A4 pages are stapled (or stitched) together. To increase this, you can only add another sheet which will make 12 sides. So, the lowest number of pages you can have when it is stapled is 8pp. Then it is 12pp, 16pp, 20pp, and so on.
Often customers can think of the page number to not include the cover itself. It can also be a bit tricky to truly know how many pages are needed, as some people think number of pages are the number of sheets that will be stapled together. So this is why it's easier for you to send us the file you wish to print from, and for you to tell us what size the booklet will be when closed.
What if my stapled booklet has too many or too few pages?
Don't worry, we can make some suggestions based on your content. We could insert some blank pages. Usually, this is best on the inside front and back covers. I It does not look out of place, depending on your design, as a blank page at the back.
What about the cover?
Covers can be a different paper grade to the inside pages – this is particularly helpful if you want the booklet to last. A thicker, light card cover – 250gsm silk will protect a thinner 115gsm silk paper inside. It is worth the extra cost of adding a cover, to give your brand that better look and feel.
There are also other finishes you can add to the cover, starting at 250gsm silk, you could make it matt or gloss laminated.
Don't forget, you can have print on the inside front covers too if you want to add more details.
How can I make my project stand out from others?
In addition to a matt or soft-touch lamination, you could add a spot gloss (or spot UV) to the front cover. There are two types of spot gloss – raised (high build) and flat (low build).
Spot gloss highlights a specific area of the cover with a glossy shine. People love the feel of this. Especially the high build. We recently provided some business cards to a local health and safety company – they had the high build on both sides. Not only did they love them, but they were showing them off to other businesses who came to me for some themselves!
We particularly like the feel of the soft touch lamination finish on a business card or folder, but this is not something that can be described in an article like this. So, if you would like some print samples to help you decide what to go for with your print project, contact us and we can send you several samples in the post.
What if my design has more than 56pp / 56 printed sides?
This is where we would recommend perfect binding (this is usually what the edge of a paperback book looks like). The item would not be stapled, but glued at the edge. This is perfect for having a larger number of pages.
Depending on the project, size of the book, etc. you can start at 40 pages and reach 120. We did do a much larger print run of hymn books recently, for a Church in Bristol. They had a staggering 324 inside pages!
There is one noticeable change with the perfect binding. The number of pages goes up in twos, rather than fours. The book will also be much more robust than stapled – lasting much longer than the average stitched booklet.
Have you read our other article 10 tips when printing a stapled booklet?
Why use our services?
We produced some of the items mentioned above for a local CCTV company, and they gave us a five-star review on Freeindex, saying this:
"Excellent quality and excellent service is a standard with Nigel, I use Afford A Print for all of my printing needs such as leaflets business cards and booklets!" Connor Greenwood
Another customer in Wigham said this:
"Nigel at afford a print did an excellent job on some poetry booklets and some tracts. He ran through each stage with me so nothing went wrong. I am well pleased with them and can thoroughly recommend this firm. He even gives you a delivery time and it's there on time."
If you have any queries on what you need to do to set up your design work for a booklet, do get in touch, it's often best to contact us before putting your design together, that way it is quickest to go to print. Some printers prefer pages joined together, but we prefer one PDF file, with each page in order (your design may also need bleed). We look forward to helping you with your project!
Why Use Afford A Print for your stapled booklet printing project?
Check out our reviews: