Business Christmas cards – a great way to promote your business:
Are you looking for a new way to…
….Promote a new product?
….Remind your customer that you are still going strong?
…..Let them know some news about what you have been up to lately?
…..Say thank you for the purchase your customer has made?
Here are ten reasons why you need to send business Christmas cards
It tells your customers that you still exist to provide them with your services. It's quite possible people will have a doubt about what businesses are still around after COVID-19 and the unpredictable economy / financial difficulties.
It's another way to thank them for their relationship – include a gift, like a custom voucher tucked inside? (Why not consider custom thank you cards to send out during the year too – we can help you with those).
To tell them about anything new you are doing – you could include a flyer about this. Many companies have changed what they do or the services they offer since COVID-19. (Talk to us for a flyer quote).
Compliment it with a free calendar for the year ahead – so your brand stays on their desk or wall all year round – include a special offer each month to encourage their ongoing relationship. we can print your custom calendars – contact us for a quote.
It continues to boost confidence in your brand – a branded card speaks much more than something purchased in a shop. It is most cost effective – when you consider most good cards in the shop are over £1 each. Some we have done recently worked out at only 24p each (148mm square) and 17p each (rectangular, A5 folded to A6). We can also provide you with a quote for design (if needed).


Here are some business Christmas card design examples
put together for our customers: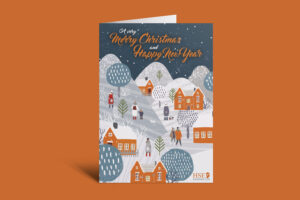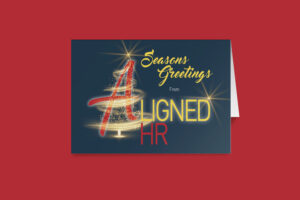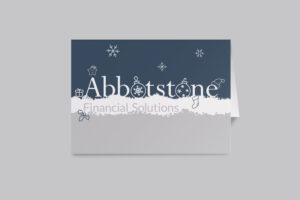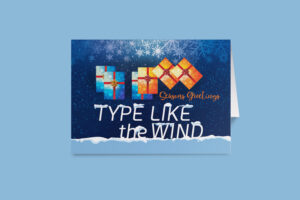 7. They don't have to be business branded – have a different design as your own personal cards – again, more cost effective than from the shops – and much more personal.
8. The open rate of an email campaign recently was estimated at 80% (see https://www.campaignmonitor.com/resources/guides/email-marketing-benchmarks/)- So out of 100 contacts, less than 18 will open them!
With that in mind, what percentage will open a Christmas card from you? To answer that question – how many Christmas cards do you open that arrive in the post? So, in many ways, this would be better than an email campaign.
Something to bear in mind while considering other cards too during the year – Easter, Birthdays, Anniversaries and Thank You cards.
9. Depending on who you send these to, why not include a newsletter – your latest email campaign, but in printed format – the open rate will end up being more!
10. The human touch – Greeting cards carry with them a sense of warmth and appropriate intimacy that makes the content of the card all that more important to the recipient. Include a personal message – tempting as it may be to have everything automated – a personal pen written message will stand out as very human in such a technologically drenched time.
Talk to us about your Greeting Card project – we would love to hear from you.
02382 358 168
Why use us for your printing project?
A health and safety company ordered some greeting cards from us, they left us a Linkedin recommendation:
"I have used Nigel (Afford a print) on numerous occasions – the service is excellent, quality superb and turnaround time fantastic – 100% recommended."
We did some for an individual who left us a review on Facebook:
"I ordered 40 Christmas cards. Arrived swiftly and very high quality. Very happy. Thank you!"
On BNI Connect, a client left us a review after printing some greeting cards. She said:
"Having received the second set of Christmas cards you have printed for me. I would just like to thank you now as a BNI member for the great service I have always received from you in regard to any printing you have done for me. This includes my first rebranded business cards and first order of Christmas cards back in 2017.
Being an impatient person, whenever I place an order with someone, I like to receive updates on how the order is progressing. I can honestly say that has never had chance to cross my mind as you have always kept me fully informed every step of the way, even to the point of checking to make sure I am happy with the finished product.
The speed of your service is exceptional. Pretty much everything I have ever ordered has been received within 48 hours of the request and sometimes even within 24 hours. Everyone likes to feel they are someone's only customer and in my opinion that is exactly how I feel when dealing with Afford-a-Print. Emails and queries are always answered very quickly and without prompt and the quality is second to none.
I would not hesitate to recommend you to any of my clients, friends and associates." Yours sincerely Julie Brealey Type Like the Wind