Bookmark Printing: I am sure we all know the importance of keeping your place in a book. But let's be honest, using a scrap piece of paper or folding the corner of the page is not ideal. That's why custom bookmarks are a great solution to this problem. Not only do they serve a practical purpose, but they also add a personal touch to your reading experience. In this ultimate guide, I'll take you through everything you need to know about designing and printing custom bookmarks for your readers.
Introduction to Custom Bookmarks
Custom bookmarks are personalised bookmarks that can be designed to fit your unique style and preferences. They can be used to promote your brand or business, as well as serve as a gift for friends and family. Bookmarks can be made from a variety of materials such as paper, cardstock, or even fabric. They can also come in various shapes and sizes, from the traditional rectangular shape to custom die-cut shapes.
Benefits of Bookmark Printing for Readers and Businesses
Custom bookmarks offer several benefits for both readers and businesses. For readers, custom bookmarks provide a practical way to keep their place in a book while adding a personal touch to their reading experience. They also make great gifts for fellow book lovers. For businesses, custom bookmarks can be used as a marketing tool to promote their brand or products. They are an affordable and effective way to increase brand awareness and customer loyalty.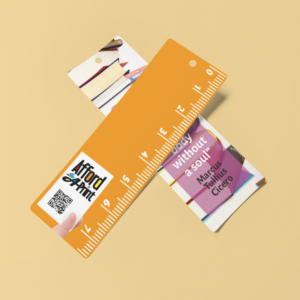 Types of Custom Bookmarks
There are several types of custom bookmarks to choose from, including paper bookmarks, magnetic bookmarks, and even metal bookmarks. Paper bookmarks are the most common type and we can easily design and print these for you here at Afford A Print. Magnetic bookmarks use a magnet to secure the bookmark to the page, making them a great option for thicker books. Metal bookmarks are durable and long-lasting, but also more expensive.
Designing Your Custom Bookmarks
When it comes to designing your custom bookmarks, the possibilities are endless. You can use your own artwork or photos, or choose from a variety of templates and designs. It's important to keep in mind the purpose of your bookmark and the audience you are targeting. If you're creating a bookmark for a specific book or author, consider incorporating elements from the book cover or author's style. If you're creating a bookmark for your business, make sure to include your logo and branding.
Tips for Creating Eye-catching Bookmark Printing Designs
To create an eye-catching design for your custom bookmarks, consider the following tips:
Keep it simple: Avoid cluttering your bookmark with too much text or images. Stick to a simple and clean design that is easy to read and visually appealing.
Use high-quality images: If you're using photos or graphics, make sure they are high resolution and clear. Blurry or pixelated images can detract from the overall design.
Choose the right colors: Use colors that compliment each other and reflect the purpose of your bookmark. Consider the emotions and feelings associated with different colors. It's good to use a variance of your business brand if you are going to promote what you do.
Incorporate textures: Adding texture to your design can add depth and interest. Consider using different paper finishes or adding embossing or foil.
Make it unique: Use your creativity to make your bookmark stand out. Consider adding a tassel or ribbon to the top, or incorporating a unique shape or cut-out.
Choosing the Right Paper and Printing Options
When it comes to printing your custom bookmarks, choosing the right paper and printing options can make all the difference. For paper bookmarks, choose a high-quality paper that is sturdy enough to withstand regular use (at least 350gsm thickness). Consider the finish of the paper, as well as any special printing options such as embossing or foil.
To protect your paper / card bookmark and make it last longer, we recommend a gloss, matt or soft touch laminate finish.
Printing Your Custom Bookmarks – DIY vs Professional Printing
You may be wondering whether to print your custom bookmarks yourself or hire a professional printing company. While DIY printing may seem like a more cost-effective option, it can be time-consuming and may not produce the best results. Here at Afford A Print, we have access to high-quality materials and printing equipment, as well as experienced designers who can help bring your vision to life. We can also offer bulk printing options, which can save you money in the long run.
Photo Bookmarks – A Unique Option for Personalisation
Photo bookmarks are a unique option for personalising your reader's experience. They can be designed using your own photos or artwork, or choose from a variety of templates and designs. We can help you with access to photos to choose from.
Creative Ways to Use Bookmark Printing for Marketing
Custom bookmarks can be used in a variety of creative ways to market your brand or products. Consider the following ideas:
Give them away at book signings or events: If you're an author or publisher, giving away custom bookmarks at book signings or events is a great way to promote your books.
Include them in packages or orders: If you're a retailer, including custom bookmarks in packages or orders is a great way to add a personal touch and promote your brand.
Use them as business cards (especially if you are an author): Custom bookmarks can double as business cards, providing customers with a practical item they can use while also promoting your business.
Offer them as a free gift with purchase: Offering custom bookmarks as a free gift with purchase is a great way to incentivise customers to buy from you.
Conclusion – Why Custom Bookmarks are a Valuable Investment for Businesses and Readers
Printed bookmarks are a valuable investment for both businesses and readers. They provide a practical way to keep your place in a book while also adding a personal touch to your reading experience. For businesses, custom bookmarks are an affordable and effective way to promote your brand and increase customer loyalty. Whether you're designing custom bookmarks for personal use or for your business, the tips and ideas in this guide can help you create a unique and memorable item that will be treasured for years to come.
Ready to proceed with your bookmark printing project? Choose Afford A Print!
By choosing Afford A Print, you can receive not only a high-quality printed bookmark product, but we can do the design work too if you need it. We work hard to help you stand out from the others.  You can have confidence in Afford A Print from start to finish, by reading our many online testimonials on Google, Facebook and Freeindex.  Choose Afford A Print, where we have the cure for the common card!
Have a read of some of the reviews left by our happy customers: